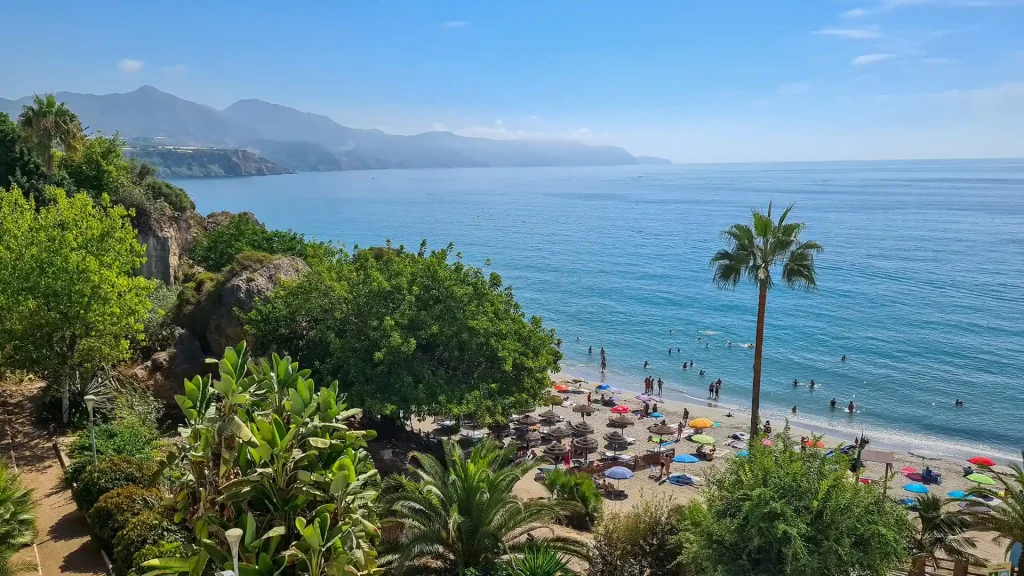 The Nerja town offers a multitude of elements of interest, which have made it one of the most important tourist resorts on the Costa del Sol. Its scenic beauty stretches from the spectacular mountains to the coast with its splendid beaches, with fertile orchards that transform the region into a true garden paradise.
In addition to all this, Nerja has unforgettable places such as the cave of Nerja, one of the most beautiful and visited in Spain, the cliffs of Maro, declared a place of beauty; and, in the village itself, the Balcón de Europa and the Church of the Savior.
History
Its current name derives from the Arabic Narija or Naricha, itself derived from a Roman term. A variety of Roman relics survive in the area, including a section of the old road that connected Sexi (Amuñecar) to Caviclum (Torrox) and a bridge that connected the Roman city of Detunda (Maro).
In the 10th century, Nerja is described as a large farmhouse set among mulberry trees and leafy orchards, famous for its expertly crafted silk fabrics.
The village was protected by a robust castle, the remains of which can still be seen on the road to Frigiliana. After the capture of Velez Malaga by the troops of the Catholic Monarchs in 1487, Nerja fell under Christian rule, becoming part of Velez in 1501.
In 1509, to protect the coast from attacks by Berber pirates, a fortress was built on rocky terrain overlooking the sea, housing the current viewpoint of the Balcon de Europa. The inhabitants was soon followed by its re-population by the ancient Christians of Biscay, Galicia, Valencia, Seville and other parts of Andalusia around 1515, 1570 saw the final expulsion of all Moriscos.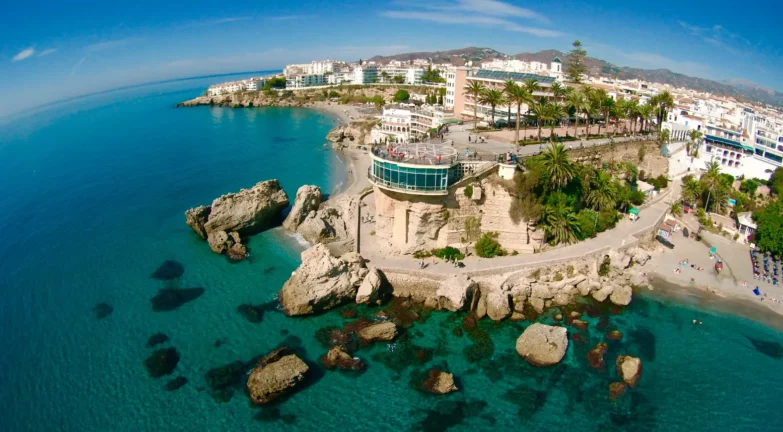 Another important episode in Nerja's history occurred during the War of Independence, when Napoleonic troops conquered the village and built coastal defenses in the castle which was later destroyed by the English navy in 1812.
The village and its municipal territory were also hit by the great earthquake known as the Andalusian earthquake on Christmas Day 1884; extensive material damage was suffered. On January 20, 1885, King Alfonso XII traveled to Nerja and other parts of the Axarquia region to express his concern over the problems caused by the earthquake. the whole face of Nerja and the rest of the municipal area, as well as the economic activities and the way of life of its inhabitants, arrived in the second half of the twentieth century, when the gradual development of tourism, which began in the years 1960, transformed the village into one of the main seaside resorts on the Mediterranean coast.
Nerja was twinned in 1990 with the Italian town of Pescia. Prominent citizens Melchor Pardo y Gutierrez, military leader and writer.Federico Gonzalez Rabanada, poet and prose writer.